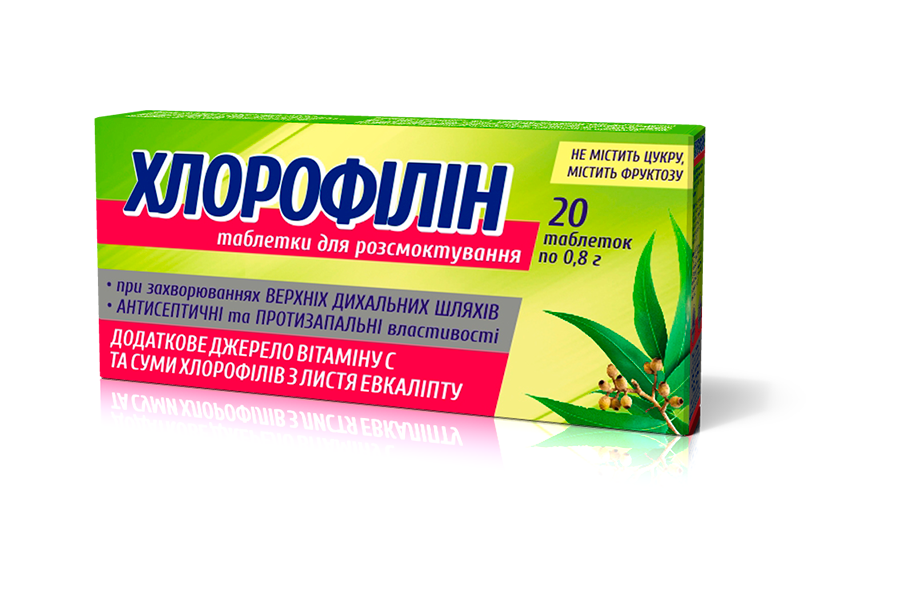 Prevention of acute respiratory viral infections and colds
Chlorophyllin
18,80 грн
It can be used as a die-tary additive for a diet – as an additional source of vitamin C and sum of chlorophylls from leaves of eucalyptus. It is a general restorative, tonic means for lowering the risk of diseases of upper respira-tory tracts. It possesses antiseptic and anti-inflammatory properties.
Product form: 20 tablets 0,8 gram each (quantitative content of active substance – 0,025 g) in a blister (10×2), in a package.
Storage: in a dry light-protected place, away from children, at temperatures from 0° C to 25° C and relative humidity of not more than 75%.
Shelf life: 24 months.
Ingredients: extract of leaves of eucalyptus – 0,025 g, fructose – 0,726 g, ascorbic acid – 0,025 g, magnesium stearate or calcium stearate.
Contraindications: children younger than 12 year old, pregnancy and period of lactation, hypersensi-tivity to the components of the product.
For adults 1 tablet for suction every 4-5 hours during 7 days.