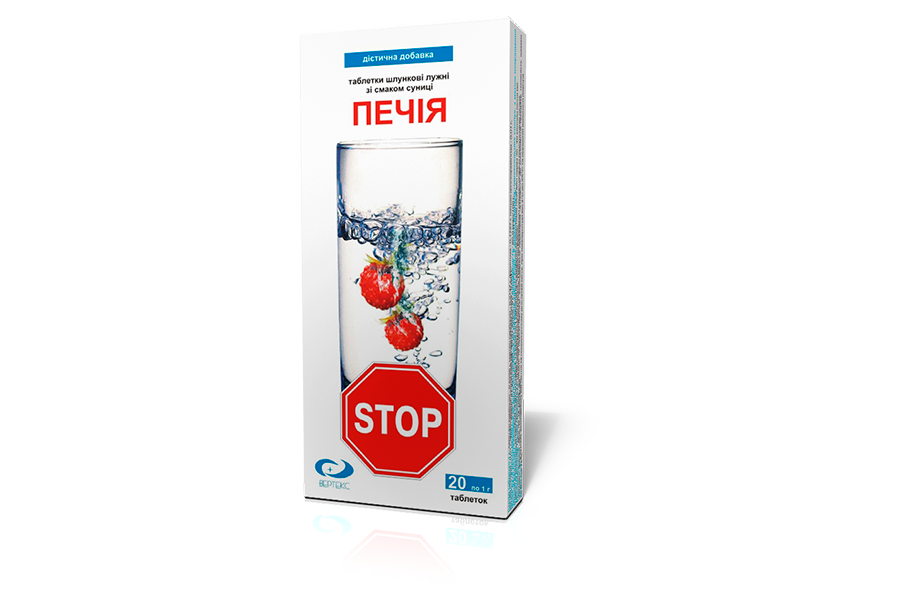 Prevention of diseases of the gastrointestinal tract
Gastric alkaline strawberry flavored tablets
20,80 грн
It is recommended to be used as a dietary additive to nourishment – as a source of hydroxyl com-pounds with the aim of improving the assimilation of food and prevention of the process of acidity violation. It contributes to elimination of heartburn.
Product form: 20 tablets (10×2) 1 gram each in a blister, in a package.
Storage: in a dry place, sheltered from the light and indoor heat sources, away from children, at temperatures from 4° C to 25° C and relative hu-midity of not more than 75%.
Shelf life: 24 months.
It is not a remedy.
Conclusion of sanitary-hygienic expert examination of Ministry of Health of Ukraine No. 05.03.02-04/84331 dated 17.09.2013
Ingredients of tablet of 1 gram: calcium carbon-ate – 0,5256 gram, magnesium carbonate – 0,2747 gram, fructose – 0,1757 gram, sodium croskar-meloza – 0,01 gram, magnesium stearate – 0,01 gram, flavour   strawberries – 0,004 gram.
The recommended period of use: don't take it longer than 2 weeks.
Contraindications: children younger than 12 years old, pregnancy and lactation , individual hyper-sensitivity to the components of the product, hard disturbance of kidneys function, hypercalciemia.
For adults and children older than 12 years old – 1 tablet while appearing of symptoms of heartburn or in30-40 minutes after meals. Chew a tablet or keep it in your mouth till full dissolution and drink water.
Related products