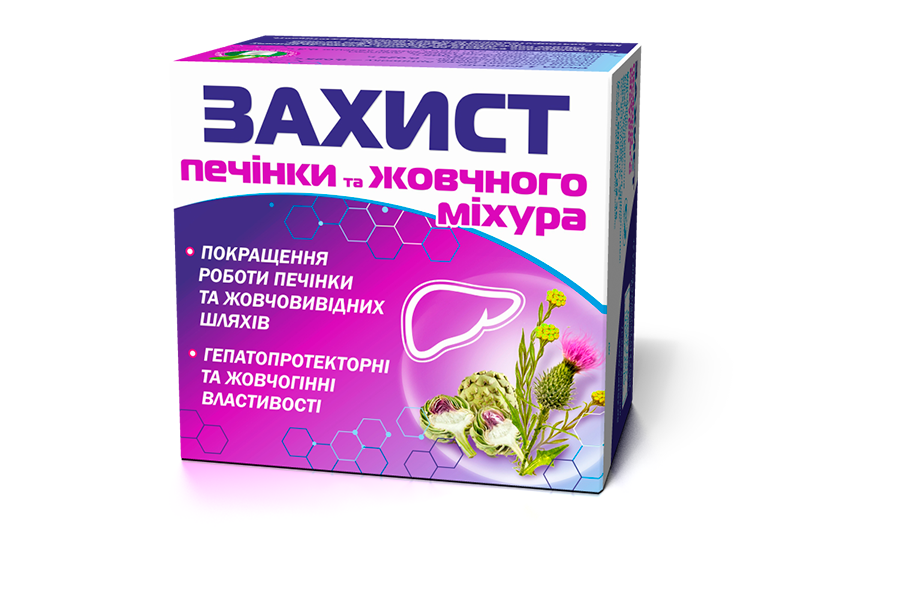 Prevention of liver and kidney disease
Protection of liver and gall-bladder
102,22 грн
It is recommended to be used as a dietary supple-ment to the diet for the normalization of the liver and gallbladder. It helps to create physiological conditions for the outflow of bile. It has hepatopro-tective properties.
Product form: 50 capsules of 0,3 g in a polymer bottle, in a package.
Storage: in a dry, protected from light place and away from children, at temperatures from 0° C to 25° C and relative humidity of 75%.
Shelf life: 24 months.
Conclusion of sanitary-hygienic expert examination of Ministry of Health of Ukraine No.05.03.02-04/62254 dated 12.07.2013. It is not a drug.
Ingredients: Artichoke extract of the herb – 0,025 g, milk thistle fruit extract – 0,025 g, flower extract of sandy immortelle – 0,005 g, micro-crystalline cellulose, aerosil, magnesium stearate – to the weight of the capsule 0,3 g.
Contraindications: children, pregnancy and breast-feeding, individual hypersensitivity to product compo-nents, obstruction of the biliary tract, severe inflamma-tory and degenerative processes in the liver, obstructive jaundice.
Adults: 1-2 capsules 3 times a day in 30 minutes before meals during 2-4 weeks. Refresher course in 1-2 months.
Related products