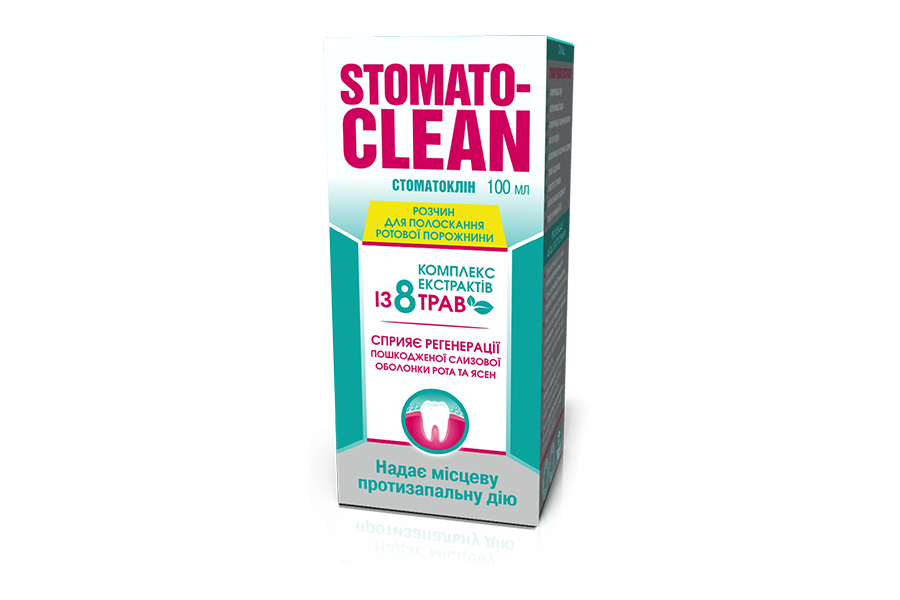 Stomatoklin
51,28 грн
A preventive preparation that provides local anti-inflammatory effect, contributes to rege-neration of the damaged mucous mem-brane of the mouth cavity. It is used as a subsidiary preparation in complex thera-py of inflammatory diseases of mucous membrane of the mouth cavity (aphthous stomatitis, paradontitis, ulcerative-necrotic gingivostomatitis), parodont af-ter removal of dental deposits and curet-tage of pathologic gingival shallow pockets as well as a preparation for pre-vention of complication after teeth ex-traction and implantation of artificial tooth roots.
Product form: bottle 100 ml in a pack-age.
Storage: in a dry place sheltered from the light and indoor heat sources, away from children, at temperatures from 0° C to 25° C and relative humidity of not more than 75%.
Shelf life: 18 months.
Ingredients: blend (mixture) of liquid extracts of rhizomes of Acorus calamus, rhizomes of Bergenia crassifolia, rhi-zomes with roots of Archangelica offici-nalis, flowers of Calendula officinalis, rhizomes with roots of Sanguisorba offi-cinalis, herb of Filipendula ulmaria (Fili-pendula vulgaris), Rose petals, flowers of Camomile (Matricaria recutita), ethyl al-cohol 40%
Recommended period of use: 2-5 days.
Warning: individual hyper sensibility to the components of the product.
Use in a water solution that is made by adding 1 teaspoonful of the preparation into a glass of warm boiled water. If it is well tolerated the doze can be enlarged to 3 teaspoonful of the prep-aration into a glass of warm boiled water. The solution is used in the way of an application (15-20 minutes), mouth bath (1-2 minutes) 2-3 times a day or by rinse with solution 2-3 times a day.